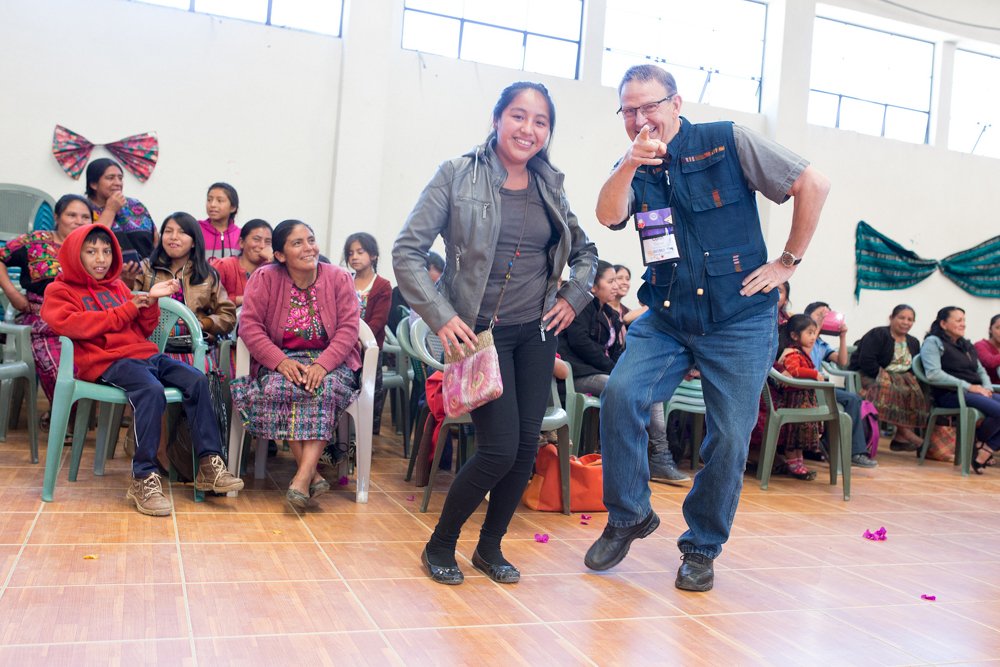 Click on a question to read the answer.
Do I need to speak Spanish to go on the tour?
Nope! In fact, the majority of our tour participants speak little or no Spanish. Your guides will translate most activities, including encounters in the communities with parents, students, and families. When you interact with students on an individual basis, you'll find many other ways to communicate, such as sharing family photos and playing soccer, basketball, and other games.
Can I bring my children/grandchildren?
Yes! We welcome parents traveling with their children and grandchildren to share a volunteer travel experience. We ask that all minors travel with a relative. In our experience, children older than 10 years are better suited to understand the difficulties of life in a developing country.
Where will I stay?
We stay in tourist-class accommodations. Typical hotels we use include:
Will I be safe in Guatemala?
The GLP's partner nonprofit, Cooperative for Education (CoEd), has been operating tours in Guatemala since 1998. In that time, not one of our tour participants has ever been a victim of a serious crime. However, in Guatemala, as in other developing countries, crime is a significant problem. Traveling in these countries is therefore not without risk. To better understand these risks, we require all tour travelers to read the U.S. State Department's Guatemala information page and any relevant public announcements concerning Guatemala.
These advisories give valuable information and suggest precautions visitors may take to mitigate risks. However, since many travelers have not previously traveled to Guatemala, they often find it difficult to put these risks into context. Consider that millions of tourists visit Guatemala every year, and historically, less than 1% of travelers have reported being involved in serious crimes to the US Embassy.
We consider the risk of traveling to Guatemala comparable to that of spending time in higher-crime areas within major U.S. cities. While traveling to any crime-ridden area can be at times unsafe—and one must acknowledge and accept the risks involved—it is our judgment that if appropriate precautions are taken, traveling to Guatemala on a tour is a reasonable risk to take.
CoEd and its staff make every reasonable effort to assure the safety of its tours, including:
Guiding the tours with veteran staff members, with years of experience working and traveling in Guatemala.
Traveling in multi-vehicle caravans with an escort provided by a private security firm.
Maintaining updated lists of high-quality doctors and hospitals (specific to the itinerary).
Fielding extra staff and vehicles, so that at any moment, one staff member and one vehicle could be dispatched to handle a medical issue. (This is different from "for profit" tour operators who send only buses and drivers with no support staff.)
Arranging airlifts from rural Guatemala in the unlikely case of serious injury.
Trip participants can also lessen their own chances of being targets of crime by:
Leaving valuables (jewelry, watches, electronics) at home.
Avoiding carrying large sums of cash.
Not discussing your travel itinerary with strangers.
Staying in groups during free time.
Overall, we believe that your experience in Guatemala will be a positive and memorable one, as it has been for the 1000+ visitors to our projects who have come before you.
Can I arrive before the tour and stay after?
If you plan to arrive a day before or stay a day after the tour at the hotels we use in Antigua, we can book those nights for you. Please contact us at least 15 days before your tour starts at tours@coeduc.org or 513.956.9004 to make the arrangements. NOTE: We cannot guarantee that we will be able to book extra nights for you, due to each hotel's availability. We recommend contacting us as soon as possible to reserve the extra nights,
If you would like to travel in Guatemala outside the official tour, you are responsible for making your own arrangements. See our list of hotel recommendations (under "Where will I stay?") for starters.
Can I leave hotel contact information with my friends or family?
Yes. Just before your tour we will send you a complete list of hotels and contact information, which you can share with your family.
Can I donate school supplies or other items during the tour?
Many tour participants ask us if they can bring donated items for the children and schools. We recommend making a cash donation, to the GLP's partner nonprofit and tour provider, Cooperative for Education (CoEd), so that CoEd purchase school supplies and other items in Guatemala to distribute during the tours. However, if you are committed to carrying items for distribution on tour, please consider the following:
Luggage and storage space on the buses is very limited. Tour participants are permitted one medium-sized suitcase. If you would like to bring additional luggage containing donated goods, please submit a request to tours@coeduc.org or

513.956.9004

, at least 15 days before your tour starts.
CoEd distributes books, sporting equipment, and pens/pencils to all schools. Any tour participant wishing to distribute other items, such as photos, candy, or clothing can do so without the assistance or involvement of CoEd staff. We do ask that you let us know ahead of time that you intend to pass out items at the schools. Items that are religious in nature may not be distributed within the context of a CoEd tour.
If you are committed to donating school supplies, we recommend the following:
Spiral notebooks
#2 pencils
Colored pencils (12/box)
Crayons (24/box)
Cap erasers
Metric rulers
Pencil sharpeners
Soccer balls
Playground balls
Basket balls
Frisbees
Sturdy pump inflators
Mesh bag (approximately 38" H x 23" W)
Note that because schools supplies are packed for tours prior to your arrival, any supplies that you donate will be collected, sorted, and used on future tours.
How can I help the children of Guatemala after I return to the U.S?
What are CoEd's COVID-19 protocols?
Before your tour, we require proof of a negative COVID-19 test, ideally taken within 24 hours of departure. On tour, if you start to have symptoms of COVID-19, we will require that you take a COVID test, and if you test positive, you will be required to isolate.
Wearing a mask on tour is optional, except where mandated by the Guatemalan government or required or requested by the facility (including schools) or family that we are visiting. We strongly recommend that all participants be up to date on their COVID-19 vaccines prior to travel. 
When deciding these protocols, we consider many factors including current government requirements, Ministry of Education requirements, access to healthcare in Guatemala for both participants and those that we serve, vaccination rates in the US and Guatemala, the current rates of cases, and what we've learned so far on the ground during tours. These protocols are subject to change at any time.
What if I can't go on a tour that I have already signed up for?