Jeydi, an 8th grader with a bright future, is determined to become a pediatrician and own her own business someday. Thanks to Rise Youth Development Program, she is one step closer to achieving her dreams!
Meet Jeydi, an ambitious 8th grader from Santa Maria Cauque. Jeydi is on a mission to unlock a world of firsts—the first in her family to graduate high school, attend college, and achieve her wildest dreams. And yet, on paper, Jeydi's dreams aren't that wild. Her biggest goal? To become a pediatrician and maybe someday run her own business.
"I would love to become a pediatrician when I grow up. I really like children and babies," she says, laughing. "But I would also like to study business. I would love to have my own business someday."
But for so many Guatemalan girls, achieving even the simplest of professional goals is often considered a pipe dream. In Guatemala, the harsh reality is that society often deprives girls of an education, with only 1 out of 10 receiving the chance to graduate from high school. Many have no choice but to drop out of school. Parents often prioritize boys' education, leaving young girls to endure a future filled with poverty and illiteracy.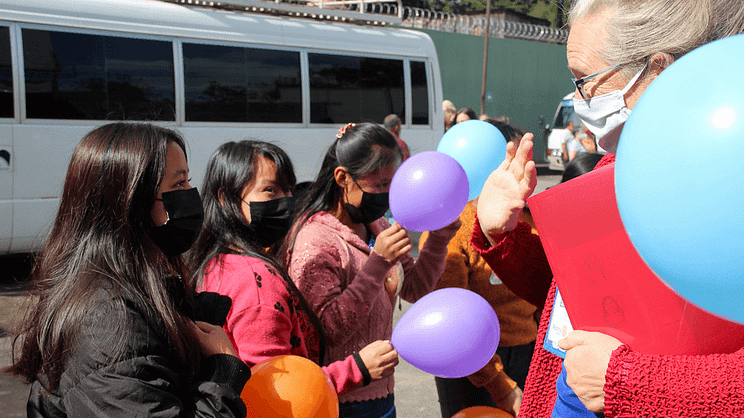 Jeydi (third from left) welcomes CoEd staff and volunteers with style alongside fellow Rise students for an activity held during the GLP Tour. San Lucas, 2023.
Jeydi almost found herself in such a situation, though not due to a lack of support from her parents. Jeydi's family has faced their fair share of financial hardships. Residing in a small, one-room home provided by her grandmother, her parents—who have limited education—work tirelessly to support her studies.
"My parents have really inspired me and have helped me. They really want me to live a different life than the one that they are living."
And now, thanks to the Rise Youth Development Program supported by so many Rotarians and their clubs… she has a chance! Jeydi received her Rise scholarship at the start of 2022 and expressed just how big of a help it has been to her and her family already, allowing her to continue her education when it seemed financially out of reach.
Although, even with a scholarship secured, Jeydi continues to work hard. Outside of school, she helps her mother with the small tortilla shop she operates out of their home. She helps with the tortillas early in the morning, and then in the afternoon after school. She then usually stays up late to do her homework at night. The oldest of three siblings, Jeydi also helps to take care of her younger sister and brother, even going as far as to help them with their homework as well.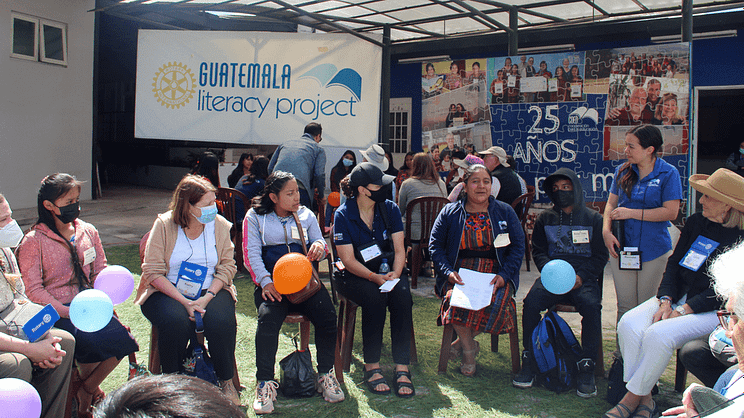 Jeydi (second from left), sits with CoEd-GLP staff and volunteers as they all gather to get to know one another and share their stories. San Lucas, Feb. 2023.
Jeydi's favorite subject is art, and in her free time, Jeydi's love for reading leads her to scour the internet for children's books. Beyond her studies, Jeydi is deeply involved in her local church and is eagerly awaiting her upcoming baptism. She's dedicated to helping other young people in her community and sharing the word of God.
Rise goes far beyond a traditional scholarship—it breaks down some of the biggest barriers holding students back. With their path cleared, these promising young students are finally on the road to achieving their true potential. By breaking the cycle of poverty, the Rise Program enables individuals like Jeydi to not just walk their chosen path, but fly. Your support of Rise is enabling Jeydi to soar to new heights and create a brighter future for themselves and their families.
Are you or your Club interested in sponsoring a student like Jeydi?